Augmentation of existing Campus-wide WiFi Network
The University has entered into MoU with MHRD, UGC and NICSI for establishment of campus-wide WiFi network. This project would augment the existing Wi-Fi connectivity in more than 150 departments/academic & administrative units and about 30 hostels with concurrent user base of approx. 30,000 users.
Delhi University Computer Centre (DUCC) of the University manages entire automation, connectivity and computing needs of the University through its server and network infrastructure running largely on Open Source Technologies. DUCC is committed to ensure quality and improved services once the Campus Connect project is commissioned.
University of Delhi and Its Network Connectivity across the Capital
Proposed Network Architecture for University of Delhi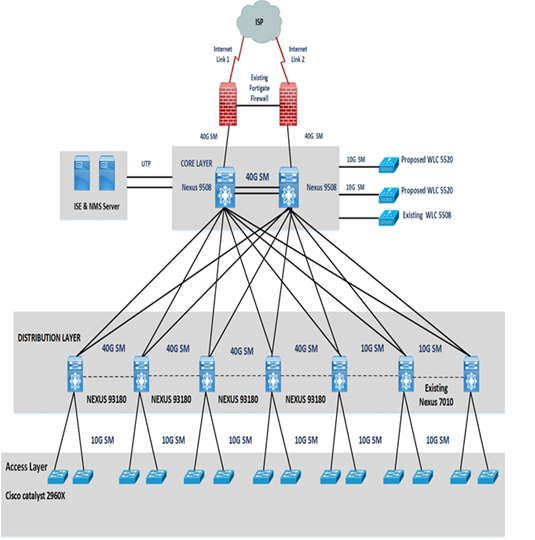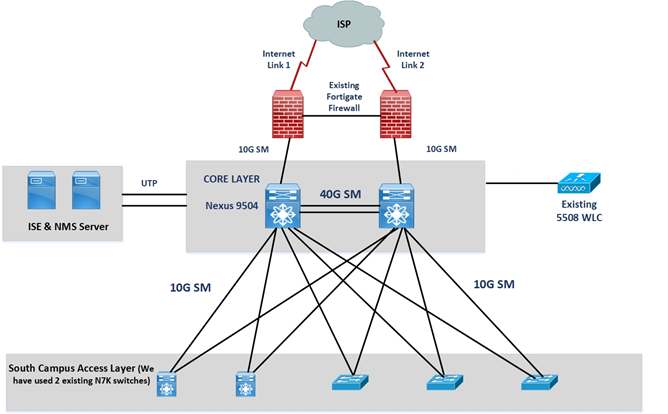 DU internet link terminates on Fortigate firewall, which connects core switch Nexus 9508.
Two Nexus 9508 in core layer for redundancy both are inter-connected with 40G fiber link.
DU needs to connect seven different location with core Nexus 9508.
Out of 7-distribution location, we have proposed five Nexus 93180 and for two we will use the existing Nexus 7K. Existing Nexus 7K has 10G uplink, it does not support 40 G hence will place these switches where users and traffic are less. This is decided as per customer feedback. In addition, customer already have SFP modules for Nexus 7K, we can use the existing modules.
All the distribution switches are connected in ring with core.
Seven different distribution sites will connect to their respective access switches with 10G Single mode Fiber.
For Wi-Fi solution, we have proposed two WLC deployed in N+1 HA configuration. Connectivity between core and WLC will be on 10 G.
Will place three WLC in north campus, 2 new and 1 existing and south is having one existing WLC, HA for south campus will be on North campus WLC.
For AAA we have proposed Cisco ISE.
For NMS we have proposed Cisco Prime Infrastructure
For South Campus we have proposed two Nexus 9504 in core and will be directly connected to access layer on 10G and 2 existing nexus 7K will be used in south campus.
DU is to remove all the stack modules from access switches also for SFP module on existing Nexus 7010.